DOCTOR ANIS MALLEK : A SUCCESSFUL PROFESSIONAL CAREER!
Anis Mallek is a plastic surgeon , trained in Europe and graduated from the University of Montpellier in plasticand restorative surgery . Assistant of the best plastic surgeons including Dr. Jean Pierre Raynaud at the Saint Roch Clinic in Montpellier.In his quest for excellence and perfection, Dr. Mallek proves a track record of professional success. He learned and practiced in the most prestigious plastic and reconstructive surgery department of Paris , Montpellier , Tunis Dubai . And it is in France where he has polished his skills in the field of plastic surgery.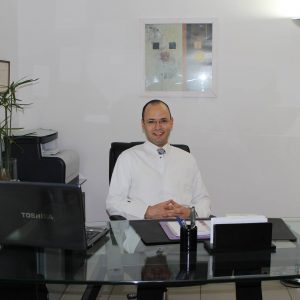 AESTHETIC RECONSTRUCTIVE AND PLASTIC SURGERY HAS NO SECRETS FOR DR ANIS MALLEK
Passionate about the field of facial reconstructive surgery , he has been practicing for many years at Les Jasmins Clinic as a practitioner in maxillofacial and plastic surgery . The transition to plastic surgery was natural. Today, he is involved in several areas such as rhinoplasty , blepharoplasty , facelift or anti-aging and also in breast cosmetic surgery ( breast implants , breast lift as well as cosmetic surgery of the body (abdominoplasty, liposuction) .
DOCTOR ANIS MALLEK : SPECIALIST IN SURGICAL BALDNESSAND HAIR TRANSPLANTATION!
Hair Micro-grafting is a specific field of facial plastic surgery . In recent years, scientific progress in this area has been considerable. To meet the needs of our patients suffering from hair loss, Dr. Anis Mallek provides them with surgical treatment of the scalp. Now, he is a surgeon within Univers Med surgical team, based in Tunisia . He is a member of numerous associations and scientific and learning companies interested in plastic surgery . Passionate about his job and particularly involved in the future of plastic surgery, he is a member of the Tunisian Society of Plastic, Reconstructive and Aesthetic Surgery , the Tunisian Society of Maxillofacial Surgery and the International Society of Aesthetic Plastic Surgery (ISAPS).
DOCTOR ANIS MALLEK : A SURGEON WHO INCARNATES ALL MEDICAL PROWESS IN TUNISIA
Dr. Mallek has a vast experience in the field of reconstructive plastic and aesthetic surgery . He received his basic training at Montpellier University and is currently working as a plastic surgeon at the Jasmine Clinic and this is where he performs a large number of aesthetic surgery and plastic surgery . He received the degree of medicine in 2005 in Montpellier and a surgeon attached to the Maxillo facial and plastic surgery department of Montpellier Hospital University. He proves a vast experience in the field of plastic surgeryand has worked very actively to further develop this specialty, in particular. He is often engaged as a lecturerand invited abroad especially for seminars.
SURGEON ANIS MALLEK : THE CAREER OF A CROWNED WINNER OF SUCCESS
A graduate from Montpellier University and justifying a solid training in plastic surgery , Dr. Anis Mallek is a Tunisian competence renowned internationally for his expertise and great savoir-faire . He is the author of several scientific articles and books presented at the Congress of Surgery both in and out of Tunisia . Find again your self-esteem and your physical well-being through ahigh-end aesthetic stay in Tunisia and thanks to the expertise of this surgeon . Modern plastic surgery as perceived by Dr. Mallek favors a natural and personalized result, allowing to rejuvenate and beautify the patient.
PRIORITIES OF cosmetic and plastic surgeon
Dr. Mallek always advises the patient as best as possible, taking into account the safety requirements in force. To obtain a natural result, as much as possible in harmony with the physiognomy of the patient and closer to his initial request is the objective of our surgeon . He personally ensures all care.